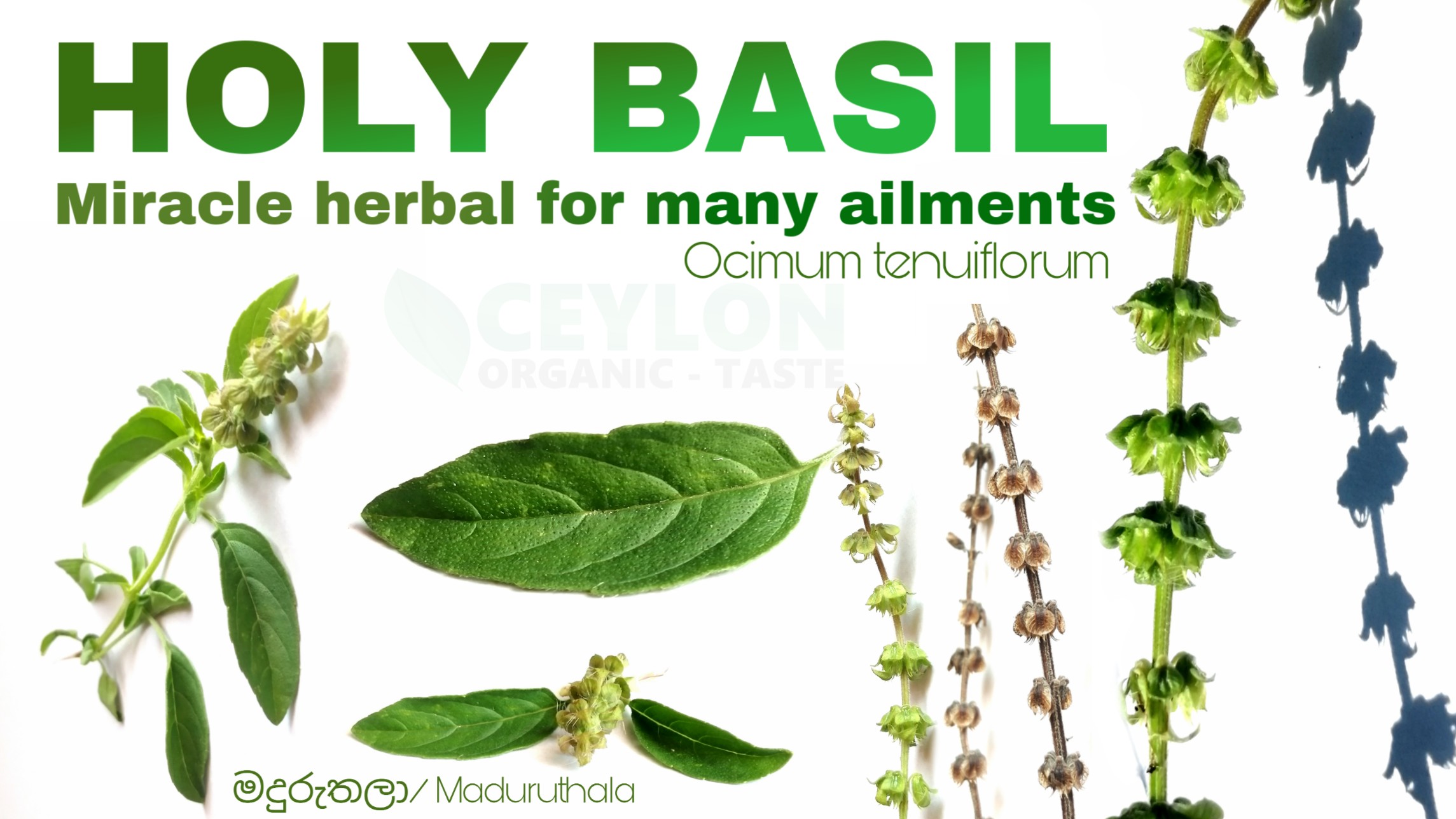 Holy Basil is one of the best natural herbals in indigenous medical remedies. It is an essential herbal in indigenous Ayurvedic recipes.

I have many experiences and a good understanding of this herbal since my childhood. My grandpa used this amazing herbal always to make in medical recipes persons who came to get medicines for snake bites. Today I use this miracle herbal to make medicines for many ailments. I also remember My grandfather, mixed dried leaves with stored grains to repel insects.

It is a fragrant medicinal plant with the erect, many-branched shrub. It can be seen 30–60 cm tall hairy stems and green or purple leaves. It's also known as "Tulsi" in India and Nepal. Holy basil contains oleanolic acid, ursolic acid, rosmarinic acid, eugenol, carvacrol, linalool, β-caryophyllene and etc.

Benefits

01. Get rid of mosquitoes
Well-crushed holy basil is used as a remedy to get rid of mosquitoes by burning. It has been using in local homes for a long time. The smoke emanating from this can be toxic to mosquitoes. It is an excellent remedy to escape from mosquito bites by rubbing on the skin the leaves of the plant with the juice.

02. For cough
It is an excellent herbal plant to cure cough. The leaf is used to make recipes for cough in indigenous Ayurvedic treatment.

03. Treats for mucus problems
Mucus is an essential thing in the human body and that must be kept balanced. This herb is used in herbal remedies to balance mucus in the body when the mucus increases.

04. Venom Medicines
This is a widely used herbal plant in venom medicines such as snake bites, insect bites and other venom problems in the body.
05. Pimples
The holy basil juice is used to cure pimples. It's a very beneficial remedy to use without side effects more than using artificial creams.

06. Pain relieve ability
The volatile oil of this plant is beneficial for relieving bones and joints pain. It also contains other compounds of pain-relieving.

07. Cures Skin blisters
It is also used to cure various kind of skin blisters by mixing with other herbal. Recipes vary according to the blister type and case of the disease.

08. Cancer Treatments
It's a very good medicinal herb for suffering from cancer. It's widely used to treat lung cancer and liver cancer in indigenous Ayurvedic medical remedies. As a simple treatment, We use the boiled leaf to drink instead of tea.

09. Common Fever and Virus fever
It is used to relieve pain who is suffering from common fever and virus fever. Medical recipes vary according to fever.

10. Stomach related problems
The leaves are used to make medicinal compounds to cure many stomach related problems such as gastritis, upset stomach, stomach pain and etc.

Kingdom: Plantae
Clade: Tracheophytes
Clade: Angiosperms
Clade: Eudicots
Clade: Asterids
Order: Lamiales
Family: Lamiaceae
Genus: Ocimum
Species: O. tenuiflorum
Binomial name: Ocimum tenuiflorum