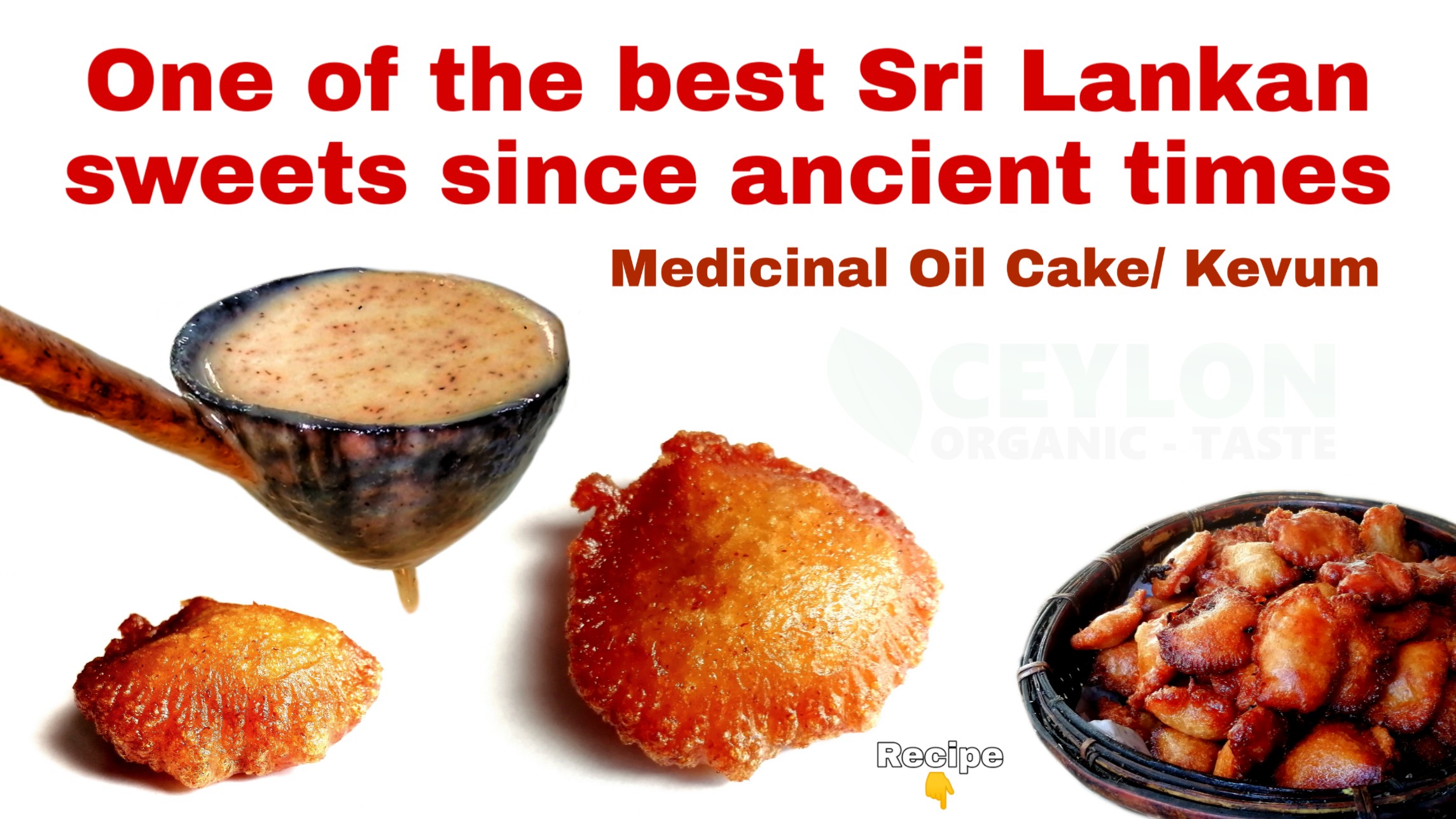 Kevum is a very beneficial and essential Sri Lankan sweet of Sinhalese. It's traditionally consumed during celebrations of Sinhala New Year. It's also known as "oil cake".

We have heard in the folklore that King Dutugemunu had used kevum made of kithul treacle or honey to the wounded soldiers of the war. At present people, it is well known that kevum is produced penicillin by keeping exposed it on air. Kevum is mentioned in ancient Sri Lankan texts such as Saddharma Ratnawaliya, Pujawaliya and the Ummagga Jatakaya.

The Saddarma Ratnawaliya , an ancient Sinhala text, mentions 18 kind of kevum such as handi kevum ( හැඳි කැවුම් ), mun kevum ( මුං කැවුම් ), konda kevum ( කොන්ඩ කැවුම් ), Ulundu kevum ( උළුඳු කැවුම් ) , Uputu kevum ( උටුපු කැවුම් ), Naran kevum ( නාරං කැවුම් ) , undu kevum ( උඳු කැවුම් ) , Diya kevum ( දිය කැවුම් ) , kudu kevum ( කුඩු කැවුම් ) , garuppu Kavum ( ගෑරුප්පු කැවුම් ) , Pana kevum ( පනා කැවුම් ) and etc.

To get the medicinal properties of kavum, it should be prepared with traditional rice and kithul treacle or honey. Also, Kitul treacle has been used as an essential food for the royal family as well as for the common people in the past. Kevum contains carbohydrates, proteins, fat, energy and many nutrients.

Today we are going to present how to make handi kevum ( හැඳි කැවුම් ) 👇
Ingredients required
¶ Traditional rice flour
¶ kithul treacle
¶ Salt
¶ Pure coconut oil

Mix well rice flour with kithul treacle and add salt as needed. To make the mixture you need to make it a little thicker. Keep the mixture 45 minutes Set aside. After 45-60 minutes, You can cook in deep oil until golden brown.


These ingredients used in the preparation of kavum are high in nutrition. Due to the sweetness of the food, when a meal is taken as a dessert, the nutrients are absorbed well into the body.

The old kavum, which is being exposed to the air, a drug called penicillin is produced. It has also been used as a wound-healing medicine since ancient times. Therefore, soldiers who go to war in the past carry a bag of kavum. Because of its nutritional and medicinal properties, it has become a useful food at the time.